Accueil > Autres produits > TriBox mini controller
Home > Other products > TriBox mini controller
TriBox mini controller
2 channels digital transmitter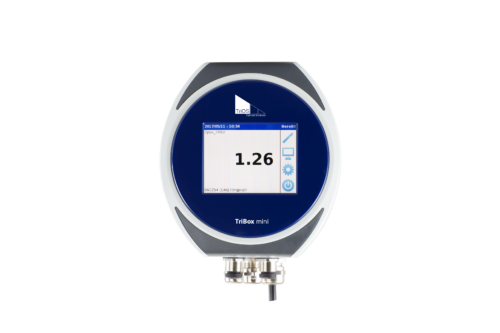 Control unit for digital sensors
2 channels digital transmitter, with 2 inputs for digital sensors and 2 analog outputs 4 ... 20 mA. The TriBox mini is compatible with all TriOS digital sensors, measurement data and sensor parameter information can be accessed via a web browser-accessible interface with Wi-Fi or Ethernet connection.
This module allows the triggering of a relay output when exceeding the programmed threshold and also makes it possible to control a compressed air injection for the automatic cleaning of the optical sensors.
Measurement principle
The TriBox mini is equipped with two sensor inputs with MC12 connectors. The analog outputs, relays and compressor control are connected via the two cable glands (on the left). The power cable is already mounted at the bottom right.
Advantages
Mobdus RTU communication possible
Suitable for all digital TriOS sensors
Integrated data storage
Wifi connection for web browser interface access
Capacitive touchscreen
Outdoor installation possible
G2 interface
| Power supply | 100 ... 240 VAC (50 ... 60 Hz), 10 ...15 VCC |
| --- | --- |
| Consumption | Standard : 2W, max : 40 W |
| Connection | 2 x industrial connectors M12 for TriOS sensors |
| Interface | RS-232, RS-485 Modbus-RTU, TriOS protocol |
| Network / USB | - TriBox mini : WiFi IEEE 802.11b/g/n - TriBox mini NET : Ethernet IEEE 802.3i |
| Connection | - TriBox mini : WiFi integrated antenna - TriBox mini NET : Interface sensor COM2 (right) |
| Protocole | TCP/IP |
| Web interface | Yes, via web browser on smartphone, computer, tablet |
| Analog outputs | 2 x configurable output signals 4 ... 20 mA |
| Relay outputs | 1 x relay contact |
| Control of compressed air injection | External connection controlled by the TriBox mini for automatic sensor cleaning |
| Screen | 3.5 'capacitive touch (320 x 240 pixels) |
| Status | 5 x LED status on the front |
| Memory | MicroSD card of 2 GB |
| Exportating data | Via WiFi (compressed .tar file) / via Ethernet |
| Operating temperature | -10 ... +50 °C (with pre-installed cable +5 ... +40 °C) |
| Dimensions | 150 x 139 x 80 mm |
| Materials | Body in die-cast aluminum alloy, acrylic glass front panel |
DEMO01