Accueil > Autres produits > TriBox 3
Home > Other products > TriBox 3
TriBox 3
4-way controller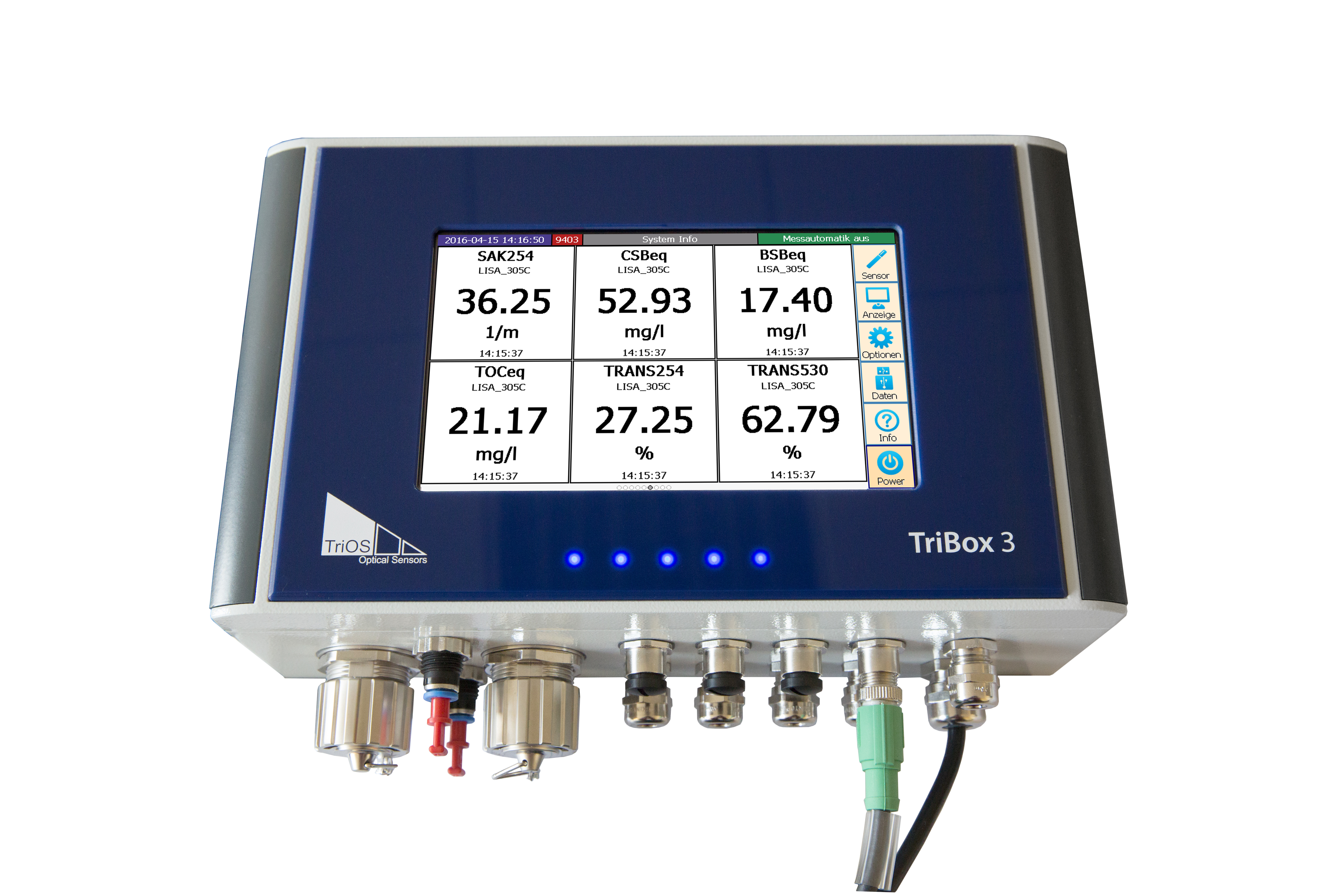 4-channel display and control unit for digital sensors.
Digital controller equipped with 4 RS232 or RS485 type sensor interfaces, enabling the sensors to be supplied, reception, display (digital or graphic) and recording of measurement data.
The TriBox 3 has the Modbus / RTU protocol for communication with the sensors and also responds to Modbus / TCP commands. It thus offers several communication interfaces such as an IEEE 802.3 Ethernet connection, WiFi 802.11 b / g / n, a USB port, a programmable relay output and six 4 ... 20 mA analog outputs.
An integrated solenoid valve controls an injection of compressed air for automatic cleaning of the optical sensors.
The TriBox is compatible with all TriOS digital sensors, the measurement and configuration data of the sensors are accessible on the screen and from a web browser once connected to the controller via WiFi or Ethernet.
It is suitable for all applications in the fields of environmental monitoring, drinking water production stations and wastewater treatment as well as many other fields, with its low power consumption, aluminum housing and multiple interfaces.
Advantages
Mobdus / RTU open communication
Access to 6 measurements in 4 ... 20 mA analog format
TCP / IP interface
Suitable for all TriOS digital sensors
Recording of measurement data and service log
Wifi connection for interface access on web browser
Integrated solenoid valve for compressed air network
| Power supply | 100 ... 240 VAC (50 ... 60 Hz) or 10 ... 15 VDC |
| --- | --- |
| Energy consumption | standard: 6 W, maximum: 50 W |
| Connection | 4 x M12 industrial connectors for TriOS sensor |
| Interface | RS-232, RS-485 Modbus-RTU, TriOS protocol |
| Network | - WiFi IEEE 802.11b / g / n - Ethernet IEEE 802.3i |
| Connection | - Integrated WiFi antenna - 1 x RJ-45 |
| Web interface | yes, access by web browser on computer, tablet, smartphone |
| Protocole | TCP / IP, Modbus, TCP, VNC |
| Analog outputs | 6 x configurable analog outputs 4 ... 20 mA max load 500 Ohms connection terminals 1.5 mm² - 16 AWG |
| Relay output | 1 x contact relay (SPDT) / 250 VAC, 2 A / 30 VDC, 2 A 2.5 mm² connection terminal blocks |
| Compressed air injection control | Integrated tripping solenoid valve |
| Screen | 7 'capacitive touch (800 x 400 pixels) |
| state | 5 x status LED on the front |
| Memory | 2 GB microSD card, direct connection possible via USB stick |
| Data export | via WiFi (compressed tar file) / via Ethernet, via USB 2.0 port |
| Operating temperature | 0...40 °C |
| Protection type | IP65 |
| Dimensions | 280x170x94 mm |
| Weight | 3,7 kg |
| Materials | housing: die-cast aluminum alloy front panel: acrylic glass (PMMA) |
DEMO01